Introducing our exclusive Women's Remill® Relaxed Fit T-shirt, designed especially for Crafty Sewing Camp! Crafted with the utmost care, this pink t-shirt features a large and eye-catching Crafty Sewing Camp logo that embodies the spirit of creativity and craftsmanship.
The Women's Remill® Relaxed Fit T-shirt is a perfect blend of style, comfort, and sustainability. Made from a combination of 50% Post-Consumer Organic Cotton and 50% Organic Cotton, this t-shirt not only feels soft against the skin but also promotes eco-friendly practices by utilizing organic and recycled materials.
The relaxed fit of this t-shirt ensures a comfortable and casual look, making it suitable for all-day wear during the camp activities. Whether you're attending sewing workshops, engaging in crafting sessions, or simply enjoying the company of fellow sewing enthusiasts, this t-shirt will keep you looking chic and relaxed.
The vibrant pink color adds a playful touch to your outfit, while the large Crafty Sewing Camp logo showcases your dedication to the craft. The logo's crafty and intricate design reflects the essence of the camp, making it a perfect keepsake for this year's attendees.
With its sustainable materials and trendy design, the Women's Remill® Relaxed Fit T-shirt is not only a fashionable choice but also a conscious one. By wearing this t-shirt, you're supporting environmentally friendly practices and showcasing your commitment to both style and sustainability.
Don't miss out on this exclusive t-shirt designed for the Crafty Sewing Camp. Embrace your love for crafting, make a bold fashion statement, and cherish the memories of this year's camp with the Women's Remill® Relaxed Fit T-shirt. Get yours today and let your passion for sewing shine brightly!
Size Guide
Centimeters
|   | 8 | 10 | 12 | 14 | 16 | 18 |
| --- | --- | --- | --- | --- | --- | --- |
| Bust | 84 | 88 | 92 | 97 | 103 | 108 |
| Waist | 66 | 70 | 75 | 80 | 85 | 91 |
| Hips | 91 | 95 | 99 | 104 | 109 | 116 |
Bust: Measure around the fullest part of your torso, just below your armpits
Waist: Measure around your waistline
Hips: Measure around the fullest part of your hips
This product is oversized, if you fall between the sizes go for the smaller of the two
Product Specification
Circular Economy Organic Cotton Relaxed Fit T-shirt. Made from 50% post-consumer remanufactured organic cotton / 50% organic cotton, 170g/m2. Wash cool, hang dry. GM free. Not tested on animals. Does not contain animal-derived products. Made in a renewable energy powered factory audited for a wide range of social and sustainability criteria.
More Crafty Tees and Totes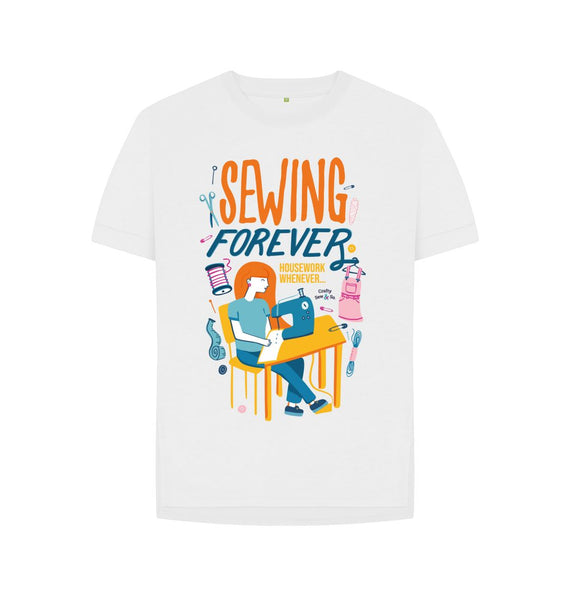 Sewing Forever Relaxed Fit T-Shirt
£24.00
View product
Crafty Sewing Camp Logo Scoop Neck Tee
£24.00
View product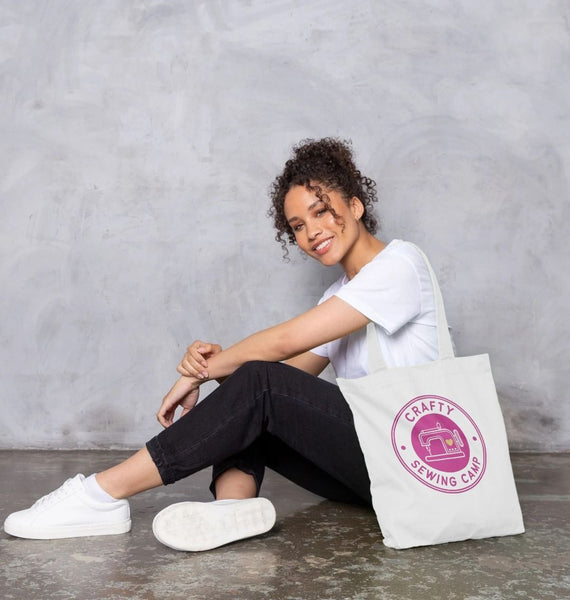 Crafty Sewing Camp Totebag
£12.00
View product